Jon Rhodes is one of the UK's leading clinical hypnotherapists. Trained by the London College Of Clinical Hypnotherapy in 2002, Jon built up a thriving practice around the North West Region of England.
Jon started off working in the metal health field. Many of the people he worked with suffered from severe mental illness such as schizophrenia. He enjoyed helping people and decided to train as a clinical hypnotherapist with his therapeutic background to draw from.
Jon is also a very keen musician, playing in various professional bands usually on guitar, bass or keyboards, and occasionally singing. He has appeared in bands that play their own compositions, as well as bands that play other artists covers. It seemed like a very natural progression that Jon would one day record his hypnosis sessions for wider use.
In 2008 Jon partnered up with his brother Jake, who is a professional web developer and counselor, to create the very popular online hypnosis site HypnoBusters. He combined his talents as both a hypnotherapist and a musician to provide high quality therapeutic hypnosis recordings. Both Jon and Jake regularly contribute articles to many websites and blogs, and they are easily found on the search engines.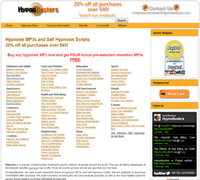 HypnoBusters contains a large and growing collection of therapeutic hypnosis audio sessions. These sessions have proved successful and very popular all around the world, and the demand for them is increasing all the time. There are sessions for almost anything you can imagine, such as The Quit Smoking Hypnotherapy Pack, Nail Biting Hypnosis and even a Hypnotic Botox session. Despite this, Jon and Jake receive requests for new sessions almost daily.
All the sessions on HypnoBusters are powerful single session audios. However in order to more accurately mimic a real gastric band procedure, the Gastric Band Hypnosis audio sessions come in 4 parts. This is because it is standard to visit a clinic several times when undergoing the real procedure.
Gastric band hypnotherapy sessions for weight loss are a relatively new therapeutic idea, and the popularity of them is exploding. If you look on the world wide web you will see a lot of growing interest. This is primarily because it is far cheaper and safer than actual surgery, but still very effective. Many hypnotherapists charge several thousands for a 'live' hypnotic procedure. A quick check in the search engines will confirm this.
However Jon and Jake thought that this is an unfairly high price to expect people to pay, especially in the current economic climate. In order to trim costs down to a minimum and give access to as many people as possible, Jon and Jake decided to make these sessions available on audio for download. This gives them availability anywhere in the world that has an internet connection for a fraction of the price of a 'live' hypnosis session. They want as many people as possible to be able to enjoy the benefits of hypnotherapy.
Jon and Jake continue to remain committed to help increase the access and availability of therapeutic hypnosis sessions by providing affordable and effective audio sessions. In the download format all unnecessary costs are completely stripped back. There are no costs producing physical goods such as CD's and packaging, and no costs and complications with postage and packaging. Downloadable sessions are also environmentally friendly.