We have been doing some intensive testing and tinkering with Gastric Band Hypnotherapy and have managed to get the sales rates up to what I consider to be very impressive. This is not all that surprising as the weight loss industry is massive, and this is a unique product backed with a VERY reputable brand. If you Google my name, Jon Rhodes, with terms such as "hypnosis" and "hypnotherapy", you will see that I have a good reputation and a high internet presence.
Stats are always open to interpretation, so I am going to be as upfront as I can.
In the month of July 2011 we received 3688 unique visitors, as seen in the graphic below, taken from our Bluehost hosting stats:

In the same month we made 41 sales of Gastric Band Hypnotherapy, as seen with our Clickbank stats: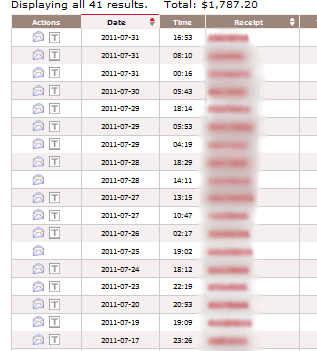 So our conversion rates are 41 / 3688 multiplied by 100.
This give us a conversion rate of 1.11
This is for a product that sells for $69.95 AND gives you a 75% commission. This equates to $47.49 per sale after Clickbank have taken out their cut. We could for example drop our price by half, which might only increase sales by 20%. Whilst the conversion rate might look more impressive, you would actually be earning less money per sale.
If you look at this in terms of money per visitor, then this puts it more into perspective.
100 visitors should statistically get 1.11 sales, since that is what the conversion rate is. 1.11 sales works out as $52.71 ($47.49 X 1.11) per hundred visitors.
Now if we divide the $52.71 by 100, we get the figure of how much money is generated per visitor.
This comes to $0.52 per visitor.
So if you can send 50 visitors per day to us, you stand to make about 26 dollars per day on average. This equates to $780 in a 30 day month. Here is a table of the amounts you can expect to earn, based on various amounts of traffic you send to Gastric Band Hypnotherapy…
| | | |
| --- | --- | --- |
| No. of visitors per day | Amount per day | Amount per month (30 day) |
| 10 | $5.20 | $156.00 |
| 50 | $26.00 | $780.00 |
| 100 | $52.00 | $1,560.00 |
| 250 | $130.00 | $3,900.00 |
| 500 | $260.00 | $7,800.00 |
These stats show that it is perfectly possible to make a full time income and more with Gastric Band Hypnotherapy. In order to increase the number of visitors per day that you send us, there are a few things that you can do.
You can increase the number of visitors to your site or blog that you refer traffic to us. You can do this by increasing the quality of your content, link building, advertising on Google Adwords etc.
Please check out our FREE eBook How To REALLY Sell ClickBank Products for more hints on how to increase your website traffic.
You can also make it more compelling for your visitors to click to us. Make sure any banners to us are displayed in very prominent positions, such as at the top left of your site. Have your site looking as clean and professional as you can in order to help gain trust. Full page product reviews also have high click through rates, and high conversion rates, as you have "warmed up" your visitor to make a sale. We have some pre-written, as well as many other materials to help you sell in our FREE eBook How To REALLY Sell ClickBank Products.
On our side, we will continue to test and make changes to our site in order to improve our conversion rates. Our goal is to be able to make you a dollar per visitor that you send us. This will take some work on our part, but I believe that we can get there. Imagine, in the future you could be earning $500 per day, which works out at a massive $15,000 per month!