Gastric Band Hypnotherapy Review
Why am I writing this? When I was thinking about buying the Gastric Band Hypnotherapy pack, there were not many real reviews around, so I decided to write one quickly to help anyone who was in the same position as I was when thinking about using a virtual lap band. But be warned, I will be giving you an unbiased and honest review, going into both the good and the bad points of the product, so if that is something you might not want to hear, then you may not want to read on.  What you will find are the ESSENTIAL details you need to know before grabbing a copy of the pack yourself.
Full Review: http://www.gastricbandhypnotherapyreview.com/
Purl Gastric Band Hypnotherapy Review
A Way To Receive The Benefits Of a Gastric Band With None of The Risks. By using hypnotherapy you can make your mind believe that you have been through the process of a gastric band fitting procedure without ever leaving your own home.
Full Review: http://purrl.net/reviews/gastric-band-hypnotherapy-review/
We are happy to include a link to your website or blog if you have one, or you may remain anonymous if you prefer.
Hear From Our Happy Customers!
———————————————————————————————————————————-
Congratulations to Terry Fisher, 41, from Windsor Canada, who reported a massive 38 pounds of weight loss in just 8 weeks using Gastric Band Hypnotherapy. That's an average of 4 and a half pounds per week. "I could feel I lost loads of weight for the first 3 weeks, but didn't want to weight myself as I wanted a surprise. I seemed to plateau a bit after 4 weeks so I used the 2 bonus sessions for a boost and it did the trick. Just want to say thanks for helping me change my life."
"I bought the Gastric Band Hypnotherapy Pack shortly after it came out as I was a fan of your work at HypnoBusters. I followed the instructions, listening to each session once over the course of three days."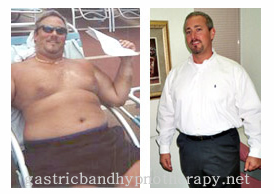 ———————————————————————————————————————————-
Mary Phillips from Kent, England lost 2 stones 1 pound (that's 29lbs) in 6 weeks with Gastric Band Hypnotherapy. "Thanks for making everything so easy. The mp3s were nice to listen to and afterwards I felt that my appetite had been reduced by quite a lot. I'm really looking forward to my holidays."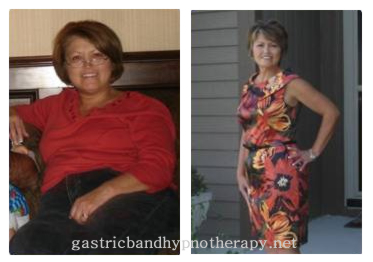 ———————————————————————————————————————————-
"It's been two months nearly now as I type this and so far I have lost 19lbs! I'm still not at my ideal weight but I hope to be there by the end of 2011.
The thing I'm most impressed with is how much my desire to eat has decreased. I also enjoyed the two bonus MP3s which have helped me to choose healthier foods and exercise more. I'm not a gym rat but I exercise at home and go for long walks now.
Thank you for creating this wonderful product. I've already recommended it to many of my friends!"
– Victoria Johnson